OILES PILLOW BLOCK
Reduced Lubrication Burden, Applicable to Severe Environment, Easy Installation
OILES Pillow Block demonstrate superior performance even in bad conditions and at portions where lubrication is impossible.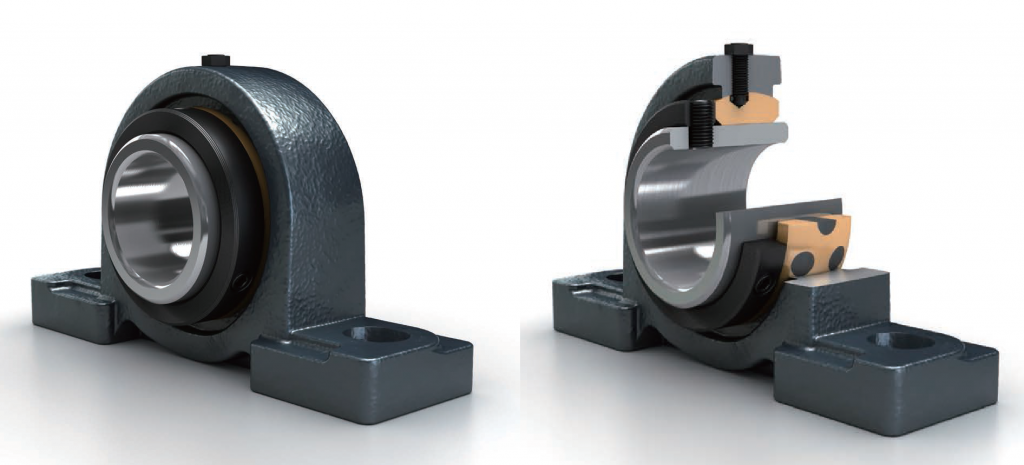 Feature
■ Easy handling enabled by complete integration into a unit
Similar to ball bearings, the OILES pillow blocks can be easily fixed to a mounting shaft with locking screws. An inner ring provided in the OILES spherical bearing bore contributes to excellent friction performance irrespective of surface roughness of the mounting shaft.
■ Rational self-alignment
Machined with high accuracy with a spherical surface processing machine, the mating surface of the OILES sphere bearing and the bearing housing allows smooth alignment without making deviated contact with the sliding surface, so the bearing performance is fully demonstrated while absorbing installation misalignment.
■ Maintenance-free operation
The OILES pillow blocks are usable without the need for lubrication, so they can be used on food processing machines where the use of grease is undesirable and also on portions that are difficult to lubricate, without worry.(The bearing life can be extended by providing lubrication.)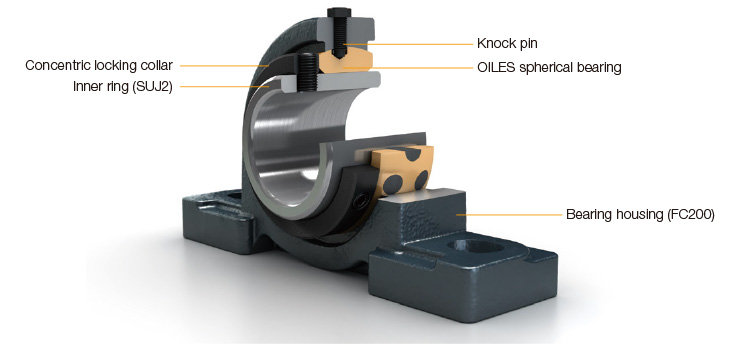 Bearing housing (manufactured by FYH INC.)
Catalog PDF
It is written the service range, the test data, and the standard size table, etc.